Regular price
Sale price
Rs. 420.00
Unit price
per
Sale
Sold out
100% Natural
No Chemicals
Unrefined
Made using the seeds of the groundnut plant, the Wood Pressed Groundnut Oil is derived from high quality groundnuts sourced from reputed suppliers. Hybrid seeds are not used in producing the oil, which ensures a superior quality. The oil has been extracted by cold pressing- so, it retains the authentic flavor of groundnut as well as its nutritional value to a high degree.
Groundnut oil is a good source of Vitamin E. It is a healthy oil to use. It helps reduce risks of heart disease and also bring down sugar levels in the blood, making it beneficial for diabetics.
View full details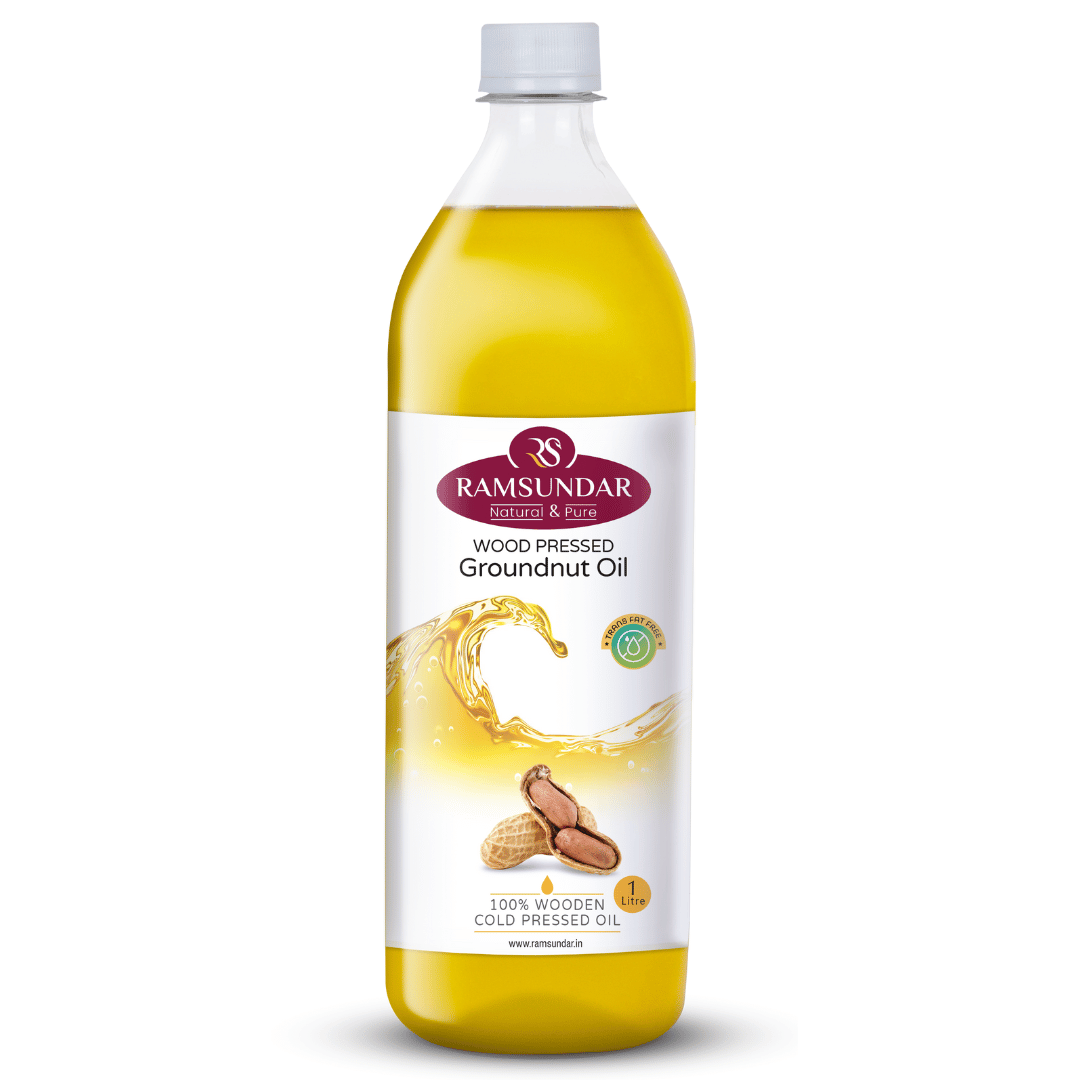 Features of Cold Pressed Peanut Oil
Authentic flavor

Cold pressed, so the oil has a natural flavour.

Vitamins & useful elements

A good source of iron, zinc, Vitamin E and Vitamin K.

Source of antioxidant

Contains the antioxidant, resveratrol, which helps protect against many diseases.

High smoke point

The smoke point is around 250 degrees celsius, which makes it ideal for deep frying.
Benefits of Cold pressed Groundnut Oil
Reduces risk of heart diseases

Lowers the risk of cancer

Prevents gall bladder stone
Uses
Sauteing and stir-frying

Dishes native to the subcontinent typically tend to be on the spicier side of the taste spectrum. Sauteing and stir-frying with groundnut oil help temper a dish even as it's imbued with the oil's unique flavor.

Deep-frying

All those mouthwatering deep-fried dishes have a perfect ally in groundnut oil, thanks to its high smoke point.

Cooking oil(reusable)

Groundnut oil is excellent for cooking, to prepare both delectable vegetarian and non-vegetarian dishes. Even better, the oil can be safely reused, without harming the health.

Great for making tadka dishes

Tadka is a famous Indian flavour-infusion method, which relies on multiple vegetables and spices. The oil that you use can make a huge difference to the tadka. Groundnut oil is among the best for it.

Salad dressing

Groundnut oil is perfect for salad dressing, providing your salads with a gently palpable under-taste.

Cooking on high heat

Let the flame flare while you prepare dishes using groundnut oil, as it's ideal for cooking on high heat.
Frequently Asked Questions
What is cold pressed groundnut oil?

Cold pressed groundnut oil, also known as cold pressed peanut oil, is an oil extracted from peanuts (groundnuts) using a method that involves minimal heat and no chemicals. It is extracted by pressing the peanuts at low temperatures to retain the natural goodness of the oil.
How is wood pressed groundnut oil made?

Wood pressed groundnut oil is made by crushing peanuts and then using a mechanical press to extract the oil. The pressing process is performed at low temperatures, typically below 122°F (50°C), to preserve the nutritional value, flavor, and aroma of the oil.
What are the benefits of using wood pressed groundnut oil?

Wood pressed groundnut oil is a good source of monounsaturated fats, antioxidants, and vitamin E. It may promote heart health, help reduce bad cholesterol levels, and provide anti-inflammatory properties. It is also rich in flavor and adds a nutty taste to dishes.
Is cold pressed groundnut oil different from regular groundnut oil?

Yes, cold pressed groundnut oil differs from regular groundnut oil, which is often produced using refined processes involving higher heat and chemical extraction. Cold pressed groundnut oil is minimally processed, retaining more of the natural nutrients and flavor of the peanuts.
Can cold pressed groundnut oil be used for cooking?

Yes, cold pressed groundnut oil is suitable for cooking. It has a high smoke point, making it ideal for various cooking methods, including frying, sautéing, and roasting. It imparts a distinctive nutty flavor to the prepared dishes.
Can cold pressed groundnut oil be used for skincare?

Cold pressed groundnut oil is sometimes used in skincare products due to its moisturizing properties. It can be applied topically to the skin to help nourish and hydrate it, leaving it soft and smooth. However, individuals with peanut allergies should exercise caution.
How should cold pressed peanut oil be stored?

To maintain its freshness, cold pressed groundnut(peanut) oil should be stored in a cool, dark place, away from direct sunlight and heat sources. It is advisable to keep the bottle tightly sealed when not in use.
Can individuals with peanut allergies use cold pressed groundnut oil?

Individuals with peanut allergies should exercise caution when using cold pressed groundnut oil. Although the refining process typically removes allergenic proteins, traces may still remain in cold pressed oils. It is best to consult with a healthcare professional before using it.
Ordering for 3rd time, very good product.
So good
I used cold pressed oil from first time. Oil is really good and aroma of oil feels pure groundnut.
An excellent taste. fried dishes are really tasty.
Very natural product. I am suggesting everyone in my circle to use ramsundar groundnut oil. Good work.. Keep it up!!
Thank you very much. Your feedback inspire us to keep delivering best quality products.